Listen:
Grizzly Hunting and Flounder Gigging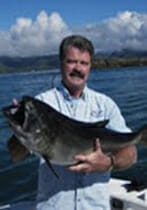 Podcast: Play in new window | Download
Our first guest is Tom Gray from Alaskan NW Adventures out of Nome, Alaska. Alaskan NW Adventures is a native-owned fishing and hunting outfitter and fish guide service that has a passion for living off the land and sharing their lifestyle with guests. Great site at 
http://www.akadventure.com
.
Next we bring in Captain Kevin Kosik from Matagorda, Texas. Capt. Kevin runs Kosik's Guide Service and he's experienced with wade fishing and drift fishing for trout, redfish, and flounder. Kevin also guides duck hunts on the bay during duck season. All the details at 
http://www.fishhuntmatagordabay.com
.
We're able to track down Harry Morse, Public Information Officer, with the California Department of Fish and Wildlife. We talk about new fishing regs in the works that will be simpler to understand. Plus, we discuss various projects and services offered by the CDFW. Check out 
https://www.wildlife.ca.gov
.
Our final guest is Scott Brown. Scott handles media relations for Fiat/Chrysler. We all get excited about the new Jeep Gladiator Truck. How could you not love this vehicle: 
https://www.jeep.com/gladiator.html
.