Listen:
Special Deal from Snowbee for FTH Listeners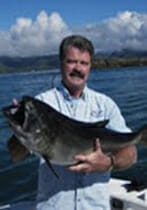 Podcast: Play in new window | Download
The show gets underway with Steve Lynch, co-owner of Pro-Cure. Steve helps us understand how fish pick up scents and how Pro-Cure works in murky and even dark water. Here's their web site: 
https://pro-cure.com/store
.
Our next guest is Mark Wilde out of St. Albans, VT. Mark runs Uncle Jammer's Fly Fishing Guide Service. He especially loves teaching fly fishing and witnessing first time experiences of his clients. We discuss everything from trout to maple syrup. Learn more at 
https://www.unclejammers.com
.
We get Bill Varney on the phone. Bill is a surf fishing instructor from Los Alamitos, CA. He's written a book about surf fishing and he even has his own line of surf rods. Bill has some great tips on how to read beach sand and beach water to find the fish. Check out 
http://www.fishthesurf.com
.
We wrap it up with our buddy Frank Burr from Snowbee-USA.  When Fish Hunt Talk listeners order Snowbee equipment you get a 20% discount if you use the code word FISHTALK. Go to 
https://snowbee-usa.com
.