Listen:
How To Get Paid To Go Fishing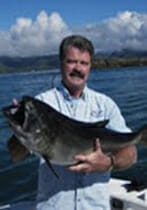 Podcast: Play in new window | Download
Joining John Henigin and Frank Selby is our new co-host Lace Allenius.
We open the show with Kory Hayden. Kory is the Communication Manager for the Siskiyou Economic Development Council. She organized the recent Outdoor Writers Association of California Conference in Siskiyou County, California. More about this beautiful area at  https://www.siskiyoucounty.org.
Next we track down Justin Hays. Justin is the manager of The Lodge at Palisades Creek in Irwin, Idaho. He lets us know how we can actually get paid to go fishing. Gotta check out this segment. Details about The Lodge at  www.TLAPC.com.
Since it's getting to be outdoor cooking season we get Brian Gillespie with Traeger Grills on the line. Brian is the Brand Ambassador for Traeger. He shares some tasty recipes from the Traegor Cook Book. Pick out your grill at  https://www.traegergrills.com.
Hope you're making plans join us in Alaska at the end of July.
It's gonna be a blast.