Listen:
From Olive Crest to Carp Spit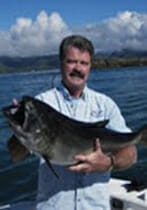 Podcast: Play in new window | Download
We appreciate you folks who've already signed up for our Alaska trip at the end of July. If you want to join us, please don't wait much longer. Go to
https://www.fishtalkradio.com/reel-fun-adventures-in-ketchikan-alaska.
We kick off the show with Brant McGlothlin. Brant tells us about the 9th Annual Olive Crest Pro/Am Fishing Tournament which  benefits the Olive Crest
Children's Home. Our very own Frank Selby will be a boat captain for the June 14th event. Details at  https://www.olivecrest.org/events/fishing2019.
Up next it's John and Betsy from the Hunewill Ranch in Bridgeport, CA. This incredible guest ranch is located north of Bishop and they offer horseback
riding, fishing and all sorts of fun outdoor activities. The web site sure makes you want to saddle up:  http://www.hunewillranch.com/index.php.
We're able to track down Steve Lynch with Pro-Cure. Pro-Cure makes the absolute best and most successful fishing bait scents and attractants. Check
out your bait shop or this web site:  https://www.pro-cure.com.
We also get Northern California fishing guide Scott Caldwell on the line. Scott was John Henigin's guide on Lake Siskiyou recently and they had an
amazing trip. More about Scott at  http://www.caldwellfishing.com.
And be sure to check out Frank Selby's fly fishing shop at  https://www.hisandherflyfishing.com.