Listen:
Secret Spots and Snagging Spoonbill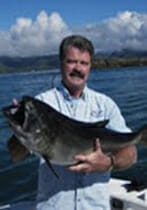 Podcast: Play in new window | Download
We get the show rolling with Ciri Evans out of Florida. She's a semi-retired guide. Ciri has some great stories and she even shares the location of one of her favorite, secret fishing spots off of Key Biscayne. Very cool lady.
Up next it's Lance Lutke. Lance guides all over Northeastern Oklahoma. Among other things we spend some time talking about catching and cooking spoonbill. Here's his web site:  www.lancesguideservice.com.
We're able to get James Rickert on the phone. James is the farm director for Belcampo Meat Company located at the base of Mt. Shasta. Belcampo has
developed a unique and humane way to raise and process meats. Learn more and order from their web site:  https://belcampo.com.
Our final guest for this episode is Matt Herod from Salmon Falls Resort in Alaska. We've got a trip to Salmon Falls coming up soon. Stay tuned for details!