Listen:
Your Chance To Fish In Downtown Chicago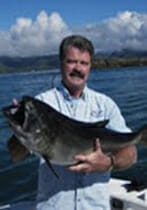 Podcast: Play in new window | Download
We kick off the show with Jan Nemec. He's the Western Region Angler Education Coordinator for the Nevada Department of Wildlife. Jan teaches fishing to kids and adults. Plus, he's written a book called, "The Flyfisher's Guide to Nevada." More about Nevada Wildlife at  http://www.ndow.org.
Then we track down Rich Tauber. He operates Rich Tauber Fishing in Central California. Rich's guide service is unique because his guides don't fish. They're on the boat to help YOU. Check out the website and plan your trip:  http://richtauberfishing.com.
Next we head up to Northern Illinois to check in with Pat Harrison. He runs Pat Harrison Outdoors. If you've ever wanted to fish in downtown Chicago, Pat's your guy. He also guides on the waters of Northern Illinois and Southern Wisconsin. Go to https://patharrisonoutdoors.com.
John and Frank recap the show. It's amazing what we didn't know about Nevada, Central California and fishing downtown Chicago.