Listen:
What Is The Fastest Fish In The World?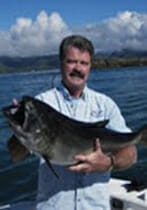 Podcast: Play in new window | Download
What Is The Fastest Fish In The World?
We kick off this episode with Peggy Harrell Nesbit from Blue Sky Fly Fishing in New Mexico. Peggy guides on the San Juan River. Blue Sky Fly Fishing offers float fishing, wade fishing and Navajo Lake fishing trips. Beautiful web site at  https://www.sanjuanflyfishing.net.
Up next it's Mark Bachmann out of Welches, Oregon. Mark runs The Fly Fishing Shop and he's an expert on spey fishing and spey casting. Plus, we discuss how you can "see" fish in the water. Very interesting stuff. Don't miss the web site at  https://flyfishusa.com.
Then we chat with Jim Korchinsky. Jim is the man behind Blue Sky Cabo Sports Fishing Charters. We talk about Jim's amazing fleet and we even discuss the fastest fish in the world. Do you know what it is? Listen to find out. More about Cabo Sports Fishing at  https://cabofishings.com.
Our final segment is a special tip of the hat to Olea Restaurant in Newport Beach, California. Olea is where Frank Selby held his recent birthday party. Frank says they treated him like royalty. Many thanks to Olea for taking care of our buddy Frank. Go to  https://www.oleanewportbeach.com.