Listen:
An Experience Worthy of Your Bucket List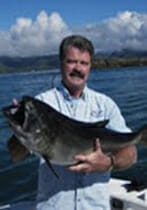 Podcast: Play in new window | Download
John Henigin is in Cabo so host Frank Selby runs the show solo this week.
Our first guest is Anthony Vasquez. Anthony is the Membership Executive for The Freedom Boat Club in Huntington Beach, California. When you join The Freedom Boat Club you get all the benefits of having a boat with none of the hassles. There are nearly 200 Freedom Boat Club locations throughout the United States and Canada. Find one near you at  https://freedomboatclub.com/locations.
Next we head up to The Kississing Lodge in Northern Manitoba, Canada. We talk with Juanita Enns and her daughter Julia. They are privileged to live and work in one of the most remote and breathtaking places on the planet. There's so much to offer at The Kississing Lodge we had to give them two full segments. Check out their amazing web site and start planning your trip today:  https://kississinglodge.com/index.php.
And speaking of having a lot to offer, don't miss Frank Selby's His and Her Fly Fishing Shop. Frank is a world famous fly fisherman but he's still the nicest guy anywhere. Go to  https://www.hisandherflyfishing.com/home.html.