Listen:
The Aspirin Buster and Much More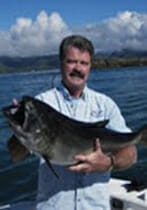 Podcast: Play in new window | Download
The show kicks off with Jason Grupp. Jason leads fishing tours all over the world and he's our special co-host for this episode. Check out  http://www.breakwatertours.com.
Then we get Pete Kutzer from Orvis on the line. Pete is a fly fishing instructor and he handles the Orvis Endorsed Program for the east coast. All about Orvis at  https://www.orvis.com.
Frank Addington joins us next. Frank is a bow and arrow expert and he's known as "The Aspirin Buster." More about Frank and what he can do at  https://www.frankaddingtonjr.com.
Our final guest is Michael Briggs from Clover Pass Resort in Alaska. Our next Alaskan trip will be to Clover Pass. Plan on joining us:  https://www.cloverpassresort.com.