Listen:
Selby Calls in from the Emergency Room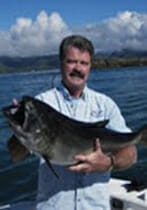 Podcast: Play in new window | Download
We bring back Rich Earley from Unreel FishTales. Unreel FishTales is a Fresh and Saltwater Male and Female Fishing Club. They've got great deals on equipment and cool video contests. Go to  https://unreelfishtales.com.
Our next guest is Jim Korchinsky from Blue Sky Charters out of Cabo San Lucas. We catch Jim heading out to Magdalena Bay along the western coast of the Mexican state of Baja California Sur. Details about Blue Sky trips and the fleet at  https://cabofishings.com.
We track down Mike Peeters. Mike is the Veteran Hunt Program Coordinator for the California Waterfowl Association. They get male and female vets into the outdoors hunting and fishing. More about this great organization at  https://www.calwaterfowl.org/hunt-program/veteran-hunts.
Frank Selby actually called in from the hospital to chat with Mike.
Frank is a trooper.