Listen:
There's Fishing and There's Catching And They're Not Always the Same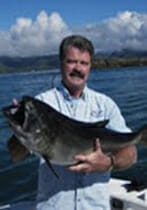 Podcast: Play in new window | Download
The show starts with Captain Tiffany Vague and Captain David Bacon from Hook, Line and Sinker in Santa Barbara, CA. Hook, Line and Sinker is the home of custom woven or wrapped Vague Fishing Rods. More about the equipment and the awesome folks at  https://www.hls-sb.com.
Then, our friend Ana Gloria Davis joins us. She's the General Manager of Oasis Hotel in Loreto, Baja California. Loreto is located by the Sea of Cortez labeled by Jacques Cousteau as "The Aquarium of the World." That means major league sportfishing. Go to  https://www.hoteloasis.com/en.
And finally we touch base with our buddy Danny Kadota. We talk about his recent fishing trips and his Semper Fish Rods. The definition of Semper is "always." Hence….Always Fish. You can find Danny on Facebook or call 310-283-7954. Web site is  https://www.semperfishrods.com.