Listen:
Bloody Tuna Powder and other Goodies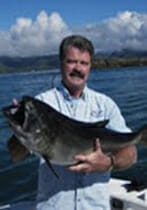 Podcast: Play in new window | Download
Bob Semerau from Western Outdoor News is our co-host this week.
First, John Henigin and Bob chat with Steve Lynch at Pro-Cure Bait Scents. Pro-Cure Scents WILL help you catch more fish. Go to https://pro-cure.com.
Then we check in with "KJ" from Mag-12 Swimbaits. Great videos and amazing products on their website. Check out https://mag12swimbaits.com.
Our final guest this episode is Ken Arnett. Ken runs 7K Anglers Fly Fishing Guide Service in New Mexico. Contact Ken at [email protected]. Or just Google 7K Anglers Fly Fishing Guide Service.
And Happy Birthday to our host Frank Selby. We didn't know the human body could withstand that many wild parties. All the best Frank!