Listen:
Car Care for the Clueless – 080111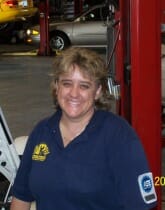 Podcast: Play in new window | Download
This week on Car Care for the Clueless, host Pam Oakes talks with some of her customers regarding their car care questions. Jack wants to know how important it is to have an engine noise checked out. While Jeff wants in on the secret of keeping your engine cool while your hot under the collar, stuck in a traffic jam. And, Bill wants to know how far you can go without running out of fuel (not a good idea).
Then, Peter Sudak, our gadget guru is back with another addition to your car. This week it's something to benefit the entire family — except the driver — while traveling the roads this summer vacation.
Pam has added a segment regarding trouble service bulletins (TSB) and recalls released by your vehicle manufacturers. This week includes a multi-manufacturer recall on headlight lenses and Honda supplemental air restraint (SIR) also known as air bags.
For more car care information, contact Pam at carcarefortheclueless.com or at her shop's web site pamsmotorcity.net. Also, on both web sites is easy access to her book: "Car Care for the Clueless (or How You Can 'Make Money' While Maintaining Your Vehicle". And, on webtalkradio's site, past episodes of Car Care for the Clueless are available. Just click on the archives section of Car Care for the Clueless for more info.