Listen:
Car Care for the Clueless – Keeping your tires "in line"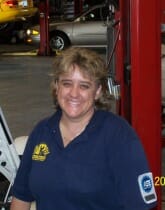 Podcast: Play in new window | Download
On this week's episode of Car Care for the Clueless, host Pam Oakes answers a time-tested question, "When does my vehicle need an alignment?" Pam explains how you, too, can tell if your vehicle needs an alignment — or not. Simple steps that you can do in your driveway or parking lot. A properly aligned vehicle insures proper handling. This means when you navigate your vehicle into turns or when you are in a panic, braking situation your vehicle will react according to design. So listen in and hear what Pam has to say about this topic.
Peter Sudak, our gadget guru, has a tool of all tools for your vehicle. The 6-in-1 tool is a big gadget but small enough to fit into your emergency tool box in the back of your trunk.
And, this week's email question comes from the pen of Tim. He want's to know which type of fuel is the best for his vehicle? Remember, regardless of octane, Top-Tier fuel is the best for your vehicle. The additives that the manufacture puts into the fuel makes your car or truck perform better, has less emissions, and most of all, you go farther on a tank of fuel (better MPG)! That means more money in your wallet
This week's Trouble Service Bulletin features General Motors and Suzuki models. There is a recall on various 2007 through 2009 General Motors vehicle regarding a possibility of a printed circuit board electrical short. There is a fix for this issue and General Motors wants to make sure that if you have one of these vehicles, The GM reference number is 10V240000. You suspect that your vehicle is covered under this recall, 1-866-996-9463 or go to www.gmownercenter.com
Suzuki has a bulletin for a knocking noise coming from the front end of the vehicle. Reference number TS 06 04239 is for 2006 through 2008 Grand Vitara. If you hear this noise while going over bumps or curbs, there is a solution for this rattle. Since this is a bulletin and not a recall, contact your local dealership or ASE-certified Blue Seal Shop for the repair.
For more helpful, money-saving tips get Pam's book "Car Care for the Clueless" at carcarefortheclueless.com or on Pam's shop web site, pamsmotorcity.net