Listen:
Car Care for the Clueless – Spending a day at the shop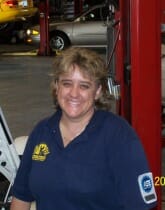 Podcast: Play in new window | Download
On this week's episode of Car Care for the Clueless, host Pam Oakes talks with customers at her Fort Myers (FL) shop. The topics range from check engine lights to brakes. Interesting, informative and everyone leaves a little more car care savvy. Just the way it is suppose to work!
Our gadget guru Peter Sudak is back this time with a "holiday" gift for you and your vehicle. He has a time saving device for when you park your vehicle at the mall this season.
Our Cheap Car Care tidbit helps get rid of ants and makes the car smell great!
The Tire Tip of the week helps you understand how you can personally tell if you are due for tires — or not. Remember: Always double check with your ASE-certified technician to make double sure!
If you would like to be more car savvy, get Pam's book "Car Care for the Clueless" at carcarefortheclueless.com or on Pam's shop web site, pamsmotorcity.net