Listen:
Middle Age Can Be Your Best Age – Make Every Day a Juicy Valentine's Day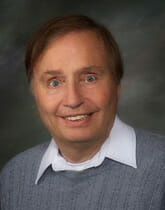 Podcast: Play in new window | Download
Wouldn't it be great if every day spent with your spouse or life partner seemed just like Valentine's Day? The problem for most of us as couples: we simply don't know how to keep our marriages continually fresh and new, romance in full bloom, over an adult lifetime of speed bumps. Certified relationship coach Cary Valentine (yes that's his real name!) visits to share three essential tips to staying in love forever–no matter how long you've been married. Discover the bold move Cary and his late wife Wendy made back in 2001 that not only healed their marriage but also elevated their lifelong commitment to a new higher level. Learn how to conquer fear by turning your doubts inside out. Listen in for a sneak preview of Cary's "7 Secrets to a Joyous Juicy Relationship." Receive inspiration from the couple's enduring love and mutual sacrifice during Wendy's strenuous two-year battle with aggressive brain cancer, her end-of-life acceptance of fate and her encouragement to Cary to carry on.
Host: Roy Richards