Listen:
Fish Tajk Radio -Sport Fishing and Bait Scents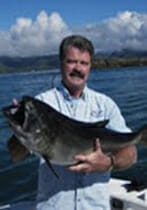 Podcast: Play in new window | Download
Hour one
John Henigin and Co-Host Frank Selby start the show with the one and only Minerva from Minerva's Baja Tackle and Sportfishing Charters in Cabo San Lucas. Check out
minervas.com
<
http://minervas.com/
>.
Then it's on to Costa Rica with Mark from Americana Sport Fishing. Find out why Costa Rica is one of the world's premier saltwater sportfishing destinations.
Captain Phil Thompson rounds out the first hour with an update on fishing, travel and conservation in Cuba. Go to
fishcubanow.com
Hour two
To open hour two John Henigin and Co-Host Frank Selby bring on Steve Lynch with Pro-Cure. Pro-Cure makes ruthlessly effective bait scents. It's
pro-cure.com
Up next is Captain Kirk Portocarrero out of Redding, CA. Kirk is a guide and outfitter and he specializes in Northern California and Southern Oregon fishing for salmon, trout and steelhead. Go
tosacriverguide.com