Listen:
Fish Talk Radio – Fly Fishing, Cuba, Cabo and Bass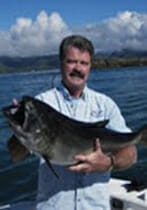 Podcast: Play in new window | Download
Hour One
Host John Henigin and Co-Host Frank Selby spend most of the first hour with Jason Randall.
Jason has a wealth of knowledge, written four books, amazing tips on Nymph Fishing straight from his new book, Nymph Masters: Fly Fishing Secrets From Expert Anglers. Don't miss his web site at  jrflyfishing.com.
Captain Phil Thompson stops by toward to end of the show. Phil is a long-time Key West fishing guide turned outdoor writer. Phil and Jason and John and Frank talk fishing in Cuba. Check out  captphilthompson.com.
And be sure to visit Frank Selby's His and Her Fly Fishing Shop in Newport Beach, California. His web site is  hisandherflyfishing.com.
Hour Two
John and Frank open hour two with John Marriott, CEO of Soft Science. Soft Science makes shoes for casual wear, exercise, boating, beach, and work. John talks about the new styles for both men and women. Go to  softscience.com.
Up next is Jim Korchinsky, owner of Blue Sky Cabo Fishing and Tours in Cabo San Lucas. Jim talks about his live broadcasts and cool videos on Facebook. Plus, every Wednesday, Blue Sky offers a complementary sunset cruise. Sweet!  All the details at  cabofishings.com.
Mark Lassange wraps up hour two. Mark is the editor of Bass Angler Magazine. The guys discuss bass fishing techniques during this time of year when bass are spawning. The Bass Angler Magazine web site is  bassanglermag.com.
And don't forget, we've partnered with Mystery Tackle Box to get you all a great deal. Use the promo code FISHTALK for $10.00 off your first subscription. Visit  mtbfish.com/fishtalkradio to learn more and subscribe.