Listen:
The Mystery Tackle Box, Wilderness Fishing and more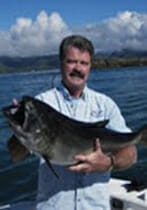 Podcast: Play in new window | Download
Hour One
Host John Henigin and Co-Host Frank Selby open hour one with Frank Burr from Snowbee USA. The guys
talk
about the growth of fly
fishing
world wide and they discuss various fly lines. Check out 
snowbee-usa.com
.
Our next guest is Richard Bowling out of Missouri. Richard is a
fishing
guide and we caught him out on the water crappie
fishing
. He also guides for ducks and turkeys. Go to Richard's Facebook page: Richard Bowling's Guide Service.
We finish up hour one with Adam from Taquan Air in Ketchikan, Alaska. Adam describes "the floatplane experience" and
talks
about wilderness
fishing
on Alaska's remote lakes. The website is 
taquanair.com
.
And be sure to visit Frank Selby's His and Her Fly
Fishing
Shop in Newport Beach, California. His web site is 
hisandherflyfishing.com
.
Hour Two
John and Frank kick off hour two with Paul Reiss from Acute Angling. If you'd like to experience the best Peacock Bass and exotic species
fishing
in the Amazon,
talk
to Paul. Call him at 866-832-2987. Or go to the web site at 
acuteangling.com
.
Terrill from High Seas Trading Company stops by next. High Seas Trading makes top quality shirts, jackets and hats so you can be comfortable anywhere from Alaska to Baja. They're not trying to be big, just small and great. Find out more at
Our final guest is Miles Morretti, President of The Mule Deer Foundation. Their goals are simple: improve, restore and protect the critical habitat of mule deer and black-tailed deer. Join the cause or just find out more at 
muledeer.org
.
And don't forget, we've partnered with Mystery Tackle Box to get you all a great deal. Use the promo code FISHTALK for $10.00 off your first subscription. Visit 
mtbfish.com/fishtalkradio
to learn more and subscribe.