Listen:
Young Angler Award Winner, Ethan Mayes and more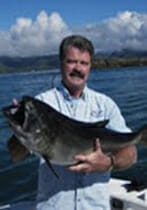 Podcast: Play in new window | Download
Hour One
John Henigin and Frank Selby open the show with Ethan Mayes out of Point Loma, California. Ethan is 13 years old and already an Accomplished Ocean Angler award winner. He's won several fishing tournaments and caught 51 different species of fish. We talk about his favorite rigs and baits and the future of his fishing career. Super kid.
Our next guest is James Netzel with Tightlines Guide Service out of Northern California. James describes his "lazy man's" style of lake fishing. He says the Tightlines guides like to think of their clients as good friends, as they devote their time and effort for the most memorable day possible. Book your trip with Capt. Fishin' James, your local Sacramento fishing guide, at 
https://fishtightlines.com
.
We wrap up hour one with Bob Aldrich. Bob is a retired officer with the California Department of Fish and Game. He's written a book called "Memoirs of Mad Dog" documenting some of his incredible experiences as a fish and game officer. John Henigin says "Memoirs of Mad Dog" is a great read. Available on Amazon.
And don't forget, we've got a trip to East Cape coming up in September. Join us:
——————————————————
Hour Two
Hour two gets underway with Scott Brown. Scott works in the PR department for Fiat, Chrysler, Jeep and Alfa Romeo. We talk about some of the new 2019 models coming out including the all new RAM trucks. Plus get ready for the 2019 Dodge Challenger SRT Hellcat Red Eye with nearly 800 horsepower! Wow.
Up next it's Doug Ouellette with Pyramid Lake Guide Service. Doug is a Master Guide celebrating his 50th year of fly fishing. He's got some neat stories and interesting history tidbits about Pyramid Lake which is home of the world's largest cutthroat trout. Check out 
http://www.pyramidlakeguideservice.com
.
Our final guest is Bob Stephenson out of Colorado Springs. Bob runs Colorado Friends and Family Fishing. He describes himself as a "worm and PowerBait" kind of guy who likes slow trolling at 1.5 miles per hour. Bob is a great guide and works to make fishing a family sport. Cool site at 
http://www.cofffishing.com/home.html
.