Listen:
The Difference Between Seaweed and a Fish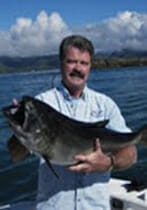 Podcast: Play in new window | Download
Opening the show is John Prochnow, Berkley's director of product innovation. He's the genius behind PowerBait MaxScent and Gulp! We find John at the Bassmaster Classic in Knoxville, TN. Berkley has some new trout and bass baits coming soon. Go to 
http://www.berkley-fishing.com
.
Our buddy Steve Hamber with Navico joins us. Navico is the largest developer, manufacturer and distributor of marine electronics. Steve brings us up-to-speed on some cool Navico products including their new Active Imaging Transducer. Amazing web site at 
https://lowrance.com
.
Frank Burr with Snowbee USA wraps up the show. We catch him at The Great Waters Fly Fishing Expo in St Paul, MN. Snowbee has super fishing products developed and tested by the Snowbee team to complement your fishing experiences. Check out 
https://snowbee-usa.com
.