Listen:
Having Fun From Costa Rica to Ketchikan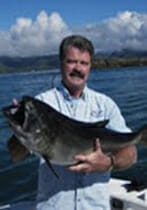 Podcast: Play in new window | Download
John Henigin is joined by co-host Bob Sumerau, feature writer with Western Outdoor News.
Our first guest is Frank Burr from Snowbee. Snowbee is giving Fish Talk listeners a 30% discount on Snowbee equipment. Just use the code word FISHTALK. Go to  https://snowbee-usa.com.
Next, we track down Craig Sutton with Fishing Nosara. Nosara is Costa Rica's best-kept fishing secret. Their web site has all the details:
http://fishingnosara.com.
Frank Selby from His and Her Fly Fishing calls in from the Olive Crest Children's Home Fundraiser. Frank says they raised over $300,000 for Olive Crest.
We head up to West Yellowstone, Montana to chat with Arrick at Arrick's Fly Shop. Meet the gang at  https://arricks.com.
This episode wraps up with Matt Herod from Salmon Falls Resort in Alaska. It's where we're going August 25th. Hope you can join us.