Listen:
The Perfect Recipe for Fly Angling Fun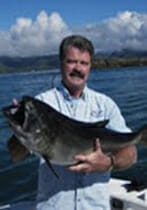 Podcast: Play in new window | Download
By popular demand, we bring back Jason Grupp to Fish Hunt Talk Radio. Jason runs Break Water Tours plus he operates a private fishing lake on the Thompson Vineyard property in Los Alamos, California.
Jason tells us about some of the tours he organizes to Belize and Lake El Salto. There's beautiful water, loads of fish plus great local food. He says it's the perfect recipe for fly angling fun. That web site is  http://www.breakwatertours.com.
Up next it's Tony Behm from Alagnak Lodge in Bristol Bay, Alaska. Their mission is to provide the Alaska wilderness lodge to experience their clients desire. If you're ready to take home a 50-pound box of wild pacific salmon and wild trophy rainbow trout go to  https://alagnaklodge.com.
And Frank Selby lets us know about a special deal he's got going at His and Her Fly Fishing. Check out the Holiday Drawing info at  https://www.hisandherflyfishing.com.