Listen:
Make Your Dream Fishing or Hunting Experience Come True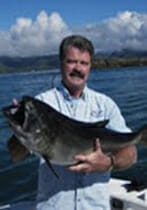 Podcast: Play in new window | Download
Our first guest is David Noble. Dave works with Off the Hook Angling and Safari Afrika Hunting. These organizations offer amazing global fishing and hunting adventures like you won't believe. Details at  http://www.offthehookangling.com and  http://safariafrika.net.
Then we bring in Jason Gammon from Terrafin Satellite Imaging. Terrafin processes customized Sea Surface Temperature Charts and Chlorophyll Charts for over 200 regions in the Continental U.S., Hawaii, Mexico, and Central America. Go to  http://www.terrafin.com.