Listen:
Don't Go Stir Crazy. Go Fishing.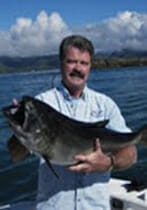 Podcast: Play in new window | Download
Up first it's Mark Lassange from Bass Angler Magazine. Everyone knows Bass Angler Magazine is the Best Magazine in Bass Fishing. Check out  
https://bassanglermag.com
.
We bring back Mark Sydney from Costa Rica Fishing. They've been hooking up satisfied anglers with Costa Rica's top sportfishing charter captains for 30 years. Details at  https://www.fishcostarica.com.
Then we have a fun segment with Russell Thomas. Russell is the ASE Resorts General Manager. Our next Alaskan trip will be to ASE's Clover Pass Resort. Go to  https://www.cloverpassresort.com.