Listen:
Getting Out, Getting Open and Getting Those Lines Wet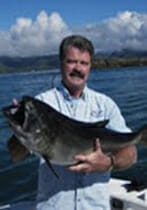 Podcast: Play in new window | Download
John Henigin is away for this episode so Frank Selby runs the show.
First we talk with Gracie Kellogg. Gracie is the main fly tyer at Frank Selby's His and Her Fly Fishing Shop in Newport Beach, CA. Folks from all over the world have Gracie tie flies for them. More about Gracie and the shop at  https://www.hisandherflyfishing.com.
Then we head up to Washington to check in with Lance Effrig. Lance and his wife Christy own Washington Guide Services in Wenatchee, WA. Lance has been fishing since he was old enough to hold a fishing pole. He's always enjoyed helping people catch fish, now he can do it everyday. Info about the area and lodging at  https://www.washingtonguideservices.com.
Finally we head out to Catalina Island off the coast of California. Joe's Rent a Boat has been on the Avalon Pleasure Pier for 94 years. Joe Guion ran it until he was 93. Now son Jay and grandson Jay Jay carry on the tradition. For boat tours, boat rentals, kayaking & canoeing, all you need to know is Joe's Rent a Boat. Web site is  http://www.joesrentaboat.com.