Listen:
Fish Talk Radio – Brian Hatch, Minerva, Dennis Meier, Bass fishing and the largest Tuna Tournament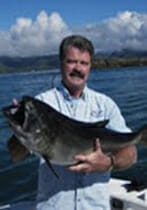 Podcast: Play in new window | Download
Hour one
Frank Selby of His and Hers Fly Shop co-hosts with John.
Brian Hatch owner of AO Coolers has great tips for keeping your catch.
Minerva with Baja Tackle and Minervas Charter fleet in Cabo San Lucas keeps us up to date
Dennis Meier with Tanaku Fishing Lodge in Alaska will make you want to book a trip.
Hour two
Professional Bass angler knows how to catch Bass everywhere in the US.
Pat McDonnell former editor of Western Outdoor News is hosting the largest Tuna Tournament in early November.