Listen:
The Alaskan RV Butler and The Fish Hook Professor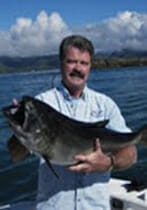 Podcast: Play in new window | Download
We get started with our old friend Mike The Alaskan RV Butler.
Mike basically operates a mobile lodge.
You go where the action is and he provides everything.
Plus, in this segment, he offers our listeners a very special deal.
Up next we talk ice fishing with Steve "Zippy" Dahl.
He owns and operates Perch Patrol Guide Service and
fishes out of Devils Lake, North Dakota.
Zippy targets Northern Pike, Walleye and Jumbo Perch.
In our last segment we bring back Matt Swainbank with Mustad hooks.
Today, one in four hooks in the world is made by Mustad.
The last time we had Mike on we got hundreds of emails asking that we
get Mike on the show again. He's like a fish hook college professor.