Listen:
The Most Important Part of Your Gear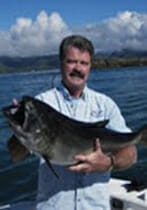 Podcast: Play in new window | Download
First up it's Matt Swainback with Mustad Hooks. We talk about the most important part of your fishing gear. Check out  
https://mustad-fishing.com
.
Next, we're able to track down Kesley Gallagher. Kesley has 10 IGFA records on fly thus far and enjoys competing in tournaments such as the Ladies Tarpon Fly Tournament in Islamorada, Florida, which she won in 2018. You can find Kesley on Facebook and Instagram.
Then we get Bob Sparre on the line. Bob has been guiding fishing expeditions in Northern California for over 30 years. He's always striving to catch more fish than other guides with his innovative techniques, lure inventions and shear determination. More info at  https://www.bobsparre.com.
Our final guest for this episode is our buddy Steve Lynch. Steve is the co-owner of Pro-Cure. Their Bait Scents and Attractants are the most effective in the industry. Go to  https://www.pro-cure.com.