Listen:
From Blue Sky to Big Sky to Big Pigs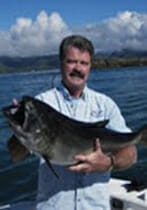 Podcast: Play in new window | Download
John Henigin is back from his Cabo San Lucas fishing trip. Many thanks to Jim Korchinsky from Blue Sky Cabo Fishing and Tours for an amazing experience. Jim tells us about a special deal he's put together for Fish Hunt Talk Radio listeners. Call Jim at 480-635-2965 or go to  
https://cabofishings.com
.
Up next it's James Whitescarver from Montana Rivers and Ridges Outfitters. They offer world class Rocky Mountain hunting and fishing just south of Missoula, Montana. When you're ready to take on the hunting and fishing trip of a lifetime go to  https://www.mtriversandridges.com.
Then we're able to track down Chad Wiebe, owner of Oak Stone Outfitters. Oak Stone offers over 230,000 acres of prime hunting territory located in and around Paso Robles, California. From Wild Pigs to Upland Birds, Oak Stone's got you covered. Plan your adventure at  https://www.oakstoneoutfitters.com.