Listen:
Gratuities Should Be Earned Not Expected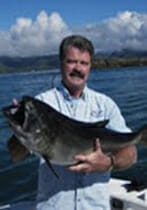 Podcast: Play in new window | Download
The show opens with Jim Korchinsky from Blue Sky Cabo Fishing and Tours out of Cabo San Lucas. Jim has an amazing fleet and always has special deals for Fish Hunt Talk listeners. Check out  https://cabofishings.com.
Then we get Steve Lynch on the phone. Steve is the co-owner of Pro-Cure. We catch him at an equipment show in Sacramento. Pro-Cure manufactures the world's finest bait scents. Go to  https://pro-cure.com.
We wrap up this episode with Nick Jackson. Nick guides on Nevada's Pyramid Lake in the winter. He's guides the Green River in Utah in the summer. More about Nick at  http://pyramidlakeguides.com or  http://dryflyutah.com.